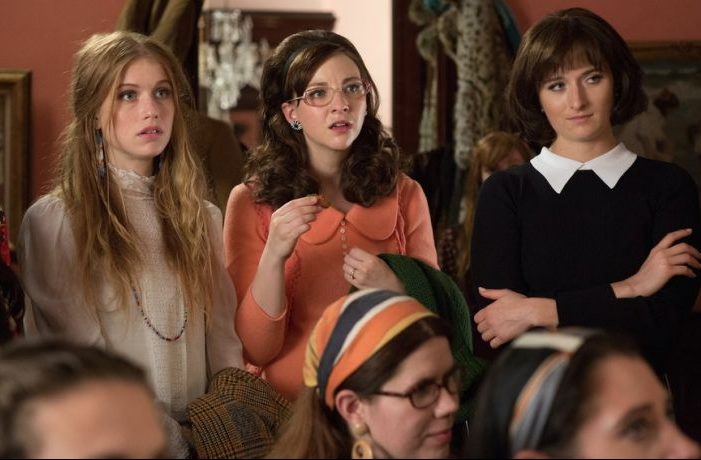 THE ELECTION has proven that these are dark times for us, ladies. On the morning of November 9th, I gave myself what my mom calls a "Ferris Bueller's Day Off." No, it didn't mean driving through parades — or, in this case, protests — but giving myself the permission to do whatever I wanted to chill. Those days usually mean binging something in bed and, on this day, the title that appealed most to me was appropriately Good Girls Revolt on Amazon. It was the best post-election decision I've made, besides signing up for volunteering and taking social media off my iPhone, of course.
I became passionate about television at a young age when I found myself getting lost in the imaginative stories as a way to escape a complicated and often, very loud household. While I watch a lot of different series — for work research, of course! — Good Girls Revolt is the first show in a while that's let me escape while also inspiring me at the same time. As the election results came in on that fateful Tuesday, I started to question the rights and dreams I have taken advantage of, like the freedom to be a female writer who can write about anything I want, and how would I fight to protect that right, if need be. When I turned on Good Girls Revolt, I realized the story was on repeat, playing out again in real time.
Set in 1969, the 10-episode show is about the young female researchers — "dollies" — of fictional magazine News of the Week. They decide they no longer want to be paid less than their male counterparts, who get to use their secretaries' intellectual labor and happily take all the credit for it. The entire season builds on an growing underground movement led by dollies calling for equal pay, all while these young women try to figure out where they stand in the changing culture of being a wife, a woman in the workplace, and being taken care of by a man — husband, boss, father, or otherwise.
I have read reviews on this show that harp on the fact-checking elements of the show — (it was based on a true story chronicled by Lynn Povich) — disparage it as a shallow version of Mad Men, but I think those people have missed the mark on what this show is really about and who it's really for. Streaming cable services, like Amazon, are not solely trying to make edgy, heady, dark content for the New York Times' subscriber list. Yet, since these spaces are fairly new, each show is trying to reach out to a new demographic. As a result, Good Girls Revolt isn't aimed at period-focused fact-checkers, but tries to deliver teen drama with depth and inspiration — think Gilmore Girls meets Mad Men. In fact, it's the exact content that networks will be talking about wanting to make in 2017, as a result of the political climate in our country.
The three main characters the show focuses on are like period American Girl dolls, with fun outfits and cool hair — except they're taking action to change their circumstances. They rarely discuss boys in a romantic way and they're never talking sh*t about each other. If I had a 12-year-old daughter, this would be a great example of strong female characters to watch. Patti Robinson (Genevieve Angelson), the lead protagonist, is the hippie free spirit who spearheads the movement. She also experiments with using her sexuality and her brain to get what she wants out of her boyfriend, who is the reporter she works under, and out of News of the Week's CEO, who notices her as a bright light. Cindy Reston (Erin Darke), Patti's first friend and ally, is unhappily married and an alcoholic, who is trying to get herself out of the constraints of a miserable marriage. Then there's Jane Hollander (Anna Camp), who is on track to get married to a great guy, as she happily answers phones on a job her father got her. The characters have soapy personal stakes and drama in their arcs, with the real-life limitations we know women just like them faced in real life. At the same time, I found the trials and tribulations each of these characters experienced different enough from one another that it really demonstrated the breadth of the odds stacked against that women had to overcome, making it easier for women of our generation in the process.
As a female writer in television, this election forced me to ask so many what if?-s, and it can be
daunting to know which question to answer first — or to feel like any of the answers are good enough. The world feels overwhelming. Yet, connecting with an inspirational feminist show reminded me of what I can bring into the world as a result of this precarious time in our country. It's a fantastic time to be a writer— thank you, Good Girls Revolt for reminding me of that.
Unfortunately, Amazon doesn't see it the same way I do; it's just been announced the show is being cancelled after one season, an arguably unprecedented reaction by the network. Apparently Sony, the studio, is looking to sell it elsewhere, which would be great! However, I would be remiss to note the irony that, at a time when we need this content most, and after the sort of election cycle we've had, that Amazon, for all the strides it has made in broadcasting progressive content, might be on the wrong side of cultural history on this one.