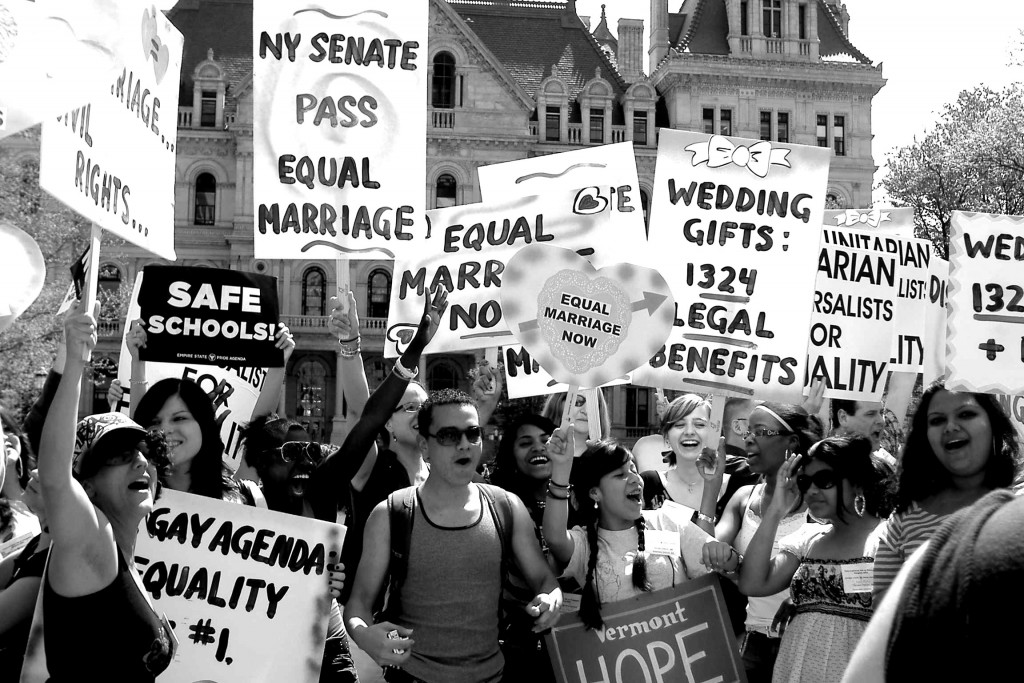 THIS PAST JUNE, the Supreme Court ruled that marriage is a constitutionally-protected right for same-sex couples. Marriage equality is a significant step forward for LGBT rights in this country, but far from the final step. While we celebrate this long-overdue decision, let's also keep in mind and learn more about barriers that remain, as well as what we can do to break them down.
The Ruling Itself 
Not all states are jumping on board with the Supreme Court's ruling. Texas Attorney General Ken Paxton is urging clerks and judges in his state with religious objections to same-sex marriage to refuse issuing marriage licenses or performing ceremonies for such couples. Roy Moore, Chief Justice of the Alabama Supreme Court, is trying to stall implementation of the ruling, encouraging judges not to issue licenses just yet, with similar efforts taking place in South Dakota, Louisiana, and Mississippi.
Unfortunately, the Supreme Court's decision didn't actually make marriage equality happen overnight. In many places, people are still waiting, and it's likely that some judges and clerks will refuse to issue licenses and perform ceremonies, serving as lingering hurdles to same-sex couples who desire to get married.
Housing
Currently, 21 states have laws against housing discrimination on the basis of sexual orientation, and 18 states have laws against discrimination on the basis of both sexual orientation and gender identity. The U.S. Department of Housing and Development (HUD) has rules that prohibits housing providers funded by HUD from practicing these forms of discrimination. Other than that, in most states, there are no protections for LGBT people.
Homelessness disproportionately affects LGBT people in the U.S., particularly transgender individuals. The National Center for Transgender Equality reports that 20% of trans individuals have been homeless at some point. One reason for that is housing discrimination, and the time for legal protections against such discrimination is long overdue.
The Housing Opportunities Made Equal (HOME) Act was first introduced to the House of Representatives in 2011, and then again in 2013 to amend the Fair Housing Act (FHA) of 1968. The HOME Act would amend the FHA to prohibit discrimination based on sexual orientation, gender identity, and marital status. The bill died in its first two attempts, but it's time to bring it back.
Employment
There are currently no federal protections against employment discrimination on the basis of sexual orientation or gender identity. Twenty-two states have taken it upon themselves to legislate against employment discrimination on the basis of sexual orientation, 19 of which also protect on the basis of gender identity. This means that, in the majority of states, members of the LGBT community can be fired or otherwise treated unfairly on the job due to their orientation or identity. Legally.
And it's happening. A Pew Research survey in 2013 found that 21% of respondents felt they were treated unfairly by an employer specifically because of their sexual orientation or gender identity. Rates are worse for black members of the community, with the National Black Justice Coalition reporting that 50% of black LGBT people experience employment discrimination. A survey found that trans workers experience double the rate of unemployment as the general population, with rates jumping to four times greater for trans people of color; 90% of trans workers reported either harassment, discrimination, mistreatment at work, or feeling pressure to hide their gender identity to avoid it, and a quarter reported being fired because of their gender identity.
It's time to reintroduce the Employment Non-Discrimination Act. A version of the bill including protections on the basis of gender identity has been introduced to Congress 8 times since 2007. Finally, in 2013, it passed the Senate (partly due to a contentious religious exemption that led to many advocate organizations pulling their support), but went no further. There is clear momentum behind it. We should let our representatives know we haven't forgotten about it, and that they shouldn't, either.
Consciousness
Legal protection of rights is of course crucial, but we can't forget the importance of addressing discrimination on the level of consciousness as well, which is where it starts.
First, educate yourself. If you have questions, do your homework and try to find an answer. Keep up on issues affecting the LGBT community, and share information with others. Don't make assumptions about others' orientation or identity (i.e., automatically assuming another's significant other is a "boyfriend" or "girlfriend"). Interrupt homophobic or transphobic humor; it's not okay. Correct derogatory or misgendering language. Speak up if you see bullying or discrimination.
What to Do
Write to your representatives and let them know that basic rights should not vary by location. LGBT people should have federal protection against housing and employment discrimination. Tell them you want to see the HOME Act and the ENDA back in Congress. Express concern about religious exemptions that run the risk of significantly weakening the impact of such legislation for LGBT people. Live in a way that de-normalizes discrimination and normalizes the treatment of all people with respect and dignity.