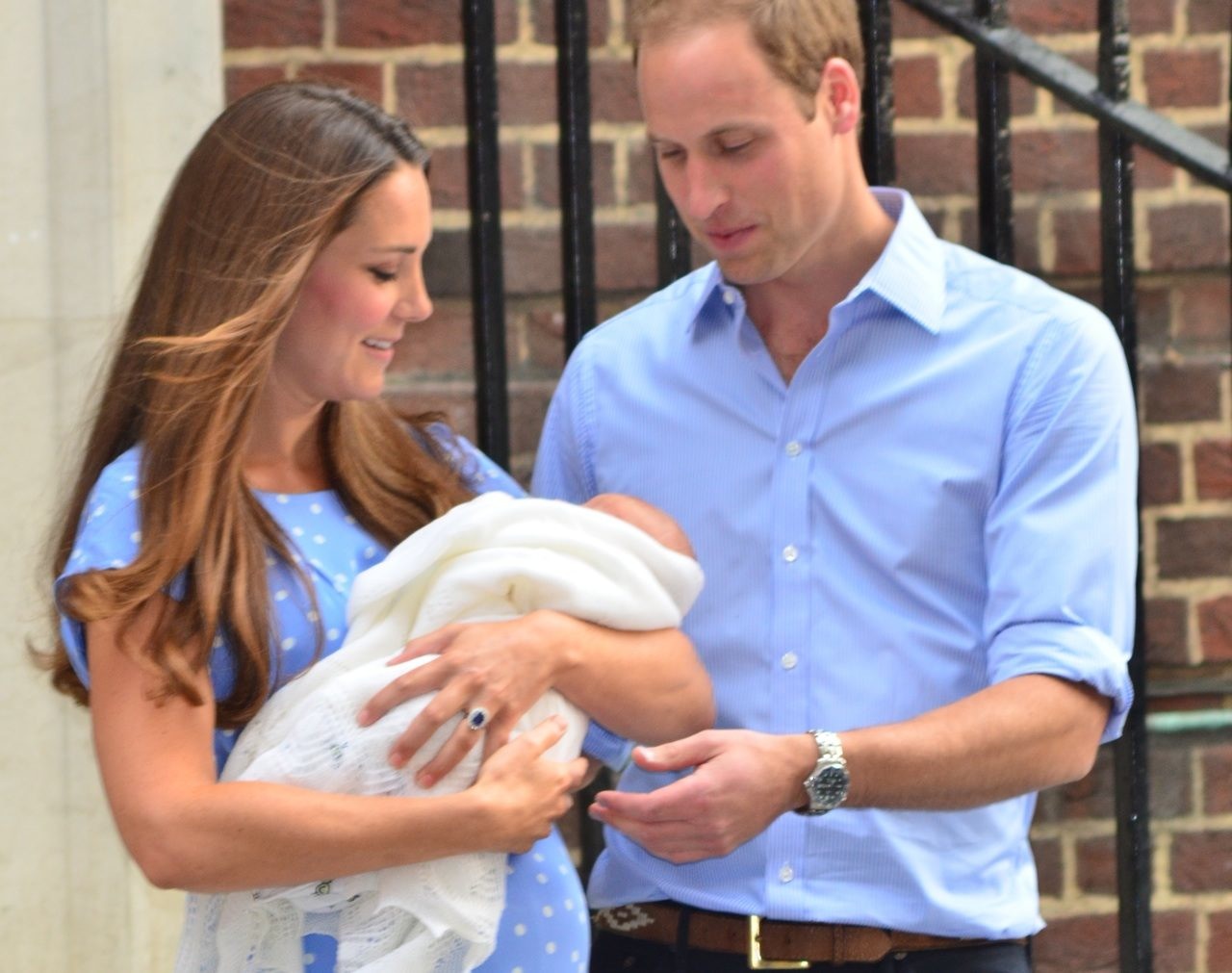 Most people would agree that Kate Middleton is pretty much the closest definition to perfect. She's gracious, kind, beautiful, and had a pre-baby body that wouldn't quit.  I don't think any sane person is truly concerned as to whether or not Her Duchess will get that body back.  She will.  We all have faith.  And if she doesn't, it's okay because we adore her.
And then as if we couldn't adore her more, last week Kate gracefully stepped out from behind the double doors of the Lindo Wing at St. Mary's Hospital in London gently cradling the future King of England, wearing the most understated periwinkle blue polka dot dress.  So understated, this writer confesses she had to look twice to make sure it wasn't a hospital gown.  And even if it were a hospital gown, it wouldn't matter.  The Duchess can do no wrong.
The happy royal couple beamed in matching light blue hues.  It's a Prince, after all!  And the audience snuck their first glimpses of this year's most highly anticipated baby bundle.
But it wasn't until Kate handed over her sweet Prince to, well, her other sweet Prince that the global female population gasped.  Because what did our wandering eyes did appear, a snuggly tied empire waist revealing what every brand new mom tries to explain to the rest of the non-pregnant world: a post-baby tummy that looks like it's about six months with child.  Yes, people, this is what a tummy really looks like after a woman gives birth!
What did I personally love about this?  I loved that when you click through all of Kate's pregnancy photos online, she was shockingly, for the most part, covered.  Lots of beautifully tailored A-line ensembles with matching coats to spare.  But, rarely was there a photo where she really flaunted her belly.  Right, I know, it's not really her style, or the Royals, to do so.  I wasn't expecting crazy Lycra maternity wear, but fashion-wise, I was expecting her to be a little more creative in displaying her bump as opposed to somewhat covering it.
But in the end, it didn't matter.  Our amazing Kate flaunted her bump when it truly mattered most.  When the rest of us vulnerable post-delivery mothers look down at the larger-than-we-expected post-baby bump, cry and wonder what the heck happened to our bodies; Kate simply owned it.  In front of the entire world.  Giving new moms everywhere a collective sigh of relief, enormous gratitude, and renewed confidence in their post-baby bodies.
The Duchess of Cambridge could have chosen a million different other options to hide her post-baby bump.  But she didn't.  And that just makes her that much closer to perfect in our book.
Thank you, Kate!
Congratulations on the arrival of your little Prince!
And welcome to the jungle that is parenthood.