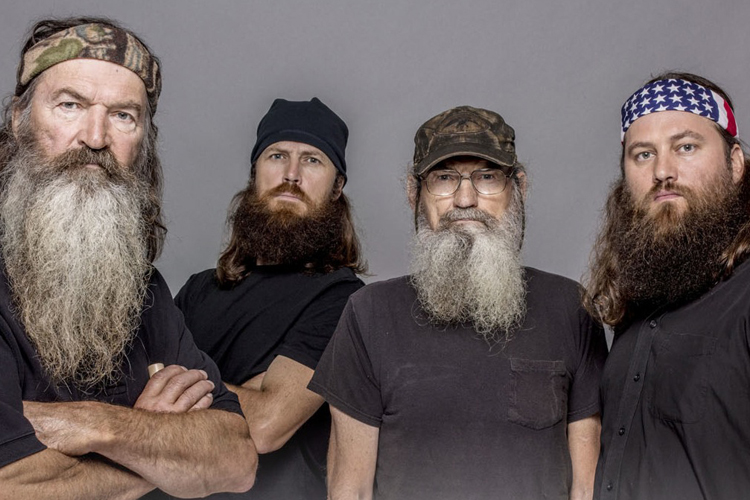 There are some seriously stinky fish in this duck pond.
'Duck Dynasty' reality TV series star 67-year-old patriarch Phil Robertson calls gay sex "not logical" and homosexual lifestyle a "sin," in "shocking" interview with GQ. Internet goes into quacking tizzy. A&E Networks, the home of 'Duck Dynasty,' responds by suspending Robertson from the show, saying they are "extremely disappointed" to read his comments and that Phil's "personal views in no way reflect those of A&E Networks, who have always been strong supporters and champions of the LGBT community." The Dynasty family stands in unity with Phil, saying they cannot imagine continuing the show without its Duck Commander.
It's all a bit too calculated.
Is it any kind of coincidence that Season 5 of 'Duck Dynasty' is set to air Jan. 15, 2014? Is it a surprise that although A&E has put their star on indefinite hiatus, their released statement did not confirm that Robertson would be absent from the premiere? This is carefully crated PR, because Phil means money. The Season 4 premiere drew a record 11.8 million total viewers and is the No. 1-rated reality series of Cable TV. There's a lot on the line.
Everything A&E does with this series is a much larger part of a business plan, which means there is a very low probability that A&E was unaware that the GQ interview was taking place, and even less likely that they didn't surmise that Phil would be a bit of a loose cannon. This is, after all, what they bank on. They need Phil.
Robert J. Thompson, professor of television and popular culture at Syracuse University, told the LA Times, "A&E has been very careful in editing and presenting this family, being careful not to show any potential controversial views… But they can't control what they say outside of the show."
Except that Phil Robertson's distinctive world view– formed by his conservative Christianity, love of guns and hunting– was part of the plan all along. It was in part, the foundation for the success of the show. While A&E has clearly edited out overtly racist, homophobic, and bigoted remarks, it's not like they didn't know it was part of Phil's repertoire.
So while they may have sent Phil to his room on punishment, the door's not locked, the room is not soundproof, and Phil is drumming up some serious noise for the new season. Over the last couple of days the internet has abounded with outcries, support, and even a trending #StandwithPhil. It's a PR dream, and it comes at the expense of many.
Indefinite hiatus is intentionally vague– in actuality it means nothing. In leaving his suspension totally open-ended, their support of the LGBT community is a rather moot point.
So what comes next?
Will Phil apologize? Will they reinstate his character? Will they continue to use this "shocking" interview to their advantage? Will Season 5 see the biggest numbers for 'Duck Dynasty' yet?
We hope this is more than a ploy to boost numbers, but from where we sit, A&E has lined these ducks up for success.