For this edition of Ask Him, we've gotten film buff Glenn Dunks to answer our reader's question.
Q: I've got a date with this guy I've been seeing for a few weeks on Saturday night, for Valentine's Day. We're going to dinner, and I plan on suggesting we go back to either of our places to watch a movie afterwards. I'm hoping that things will get a little steamy on the couch. Any suggestions on a movie to set the mood?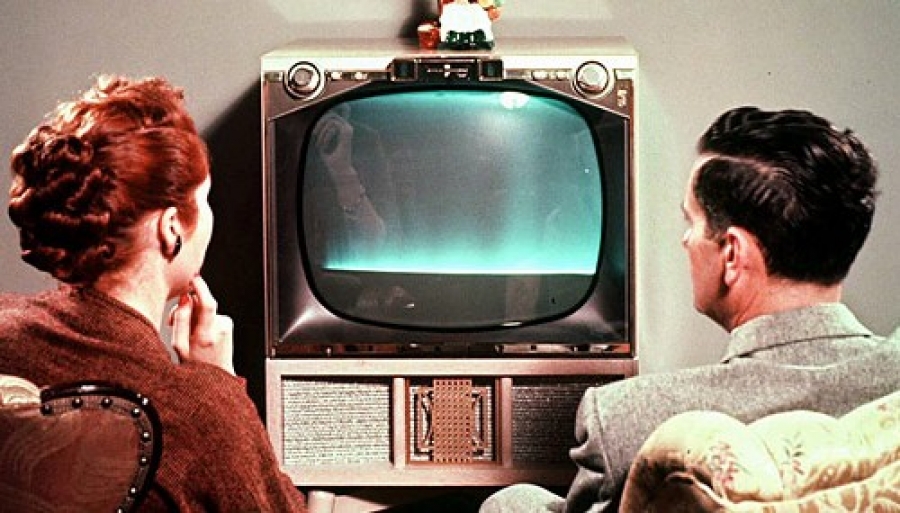 A: Okay, so here's the deal. As a gay man, I don't have much experience with navigating the world of heterosexual dating. A steady diet of Hollywood film-making has led me to believe it's truly complicated and strewn with potential emotional and/or physical landmines. Of course, it's not like there's some grand chasm of difference between straight and gay relationships, but I do think we tend to have a far more chill relationship with sex. Certainly, our individual and community histories of being closeted, perhaps even abused, shamed — even in this day and age — over our sexuality, and sometimes used as political pawns has somehow worked to make us more open about what we want, how we want it, and who we want it with.
However, one of the perversely funny things about Valentine's Day is that if you aren't single, or you have a date lined up, everyone knows you're going to be having sex that night. That person in the next cubicle at the office? Totally getting laid tonight! The guy across from you on the bus? Yup, he's gonna get some. That chick gloating about the flowers somebody delivered to her? Oh yeah, you know what she's doing tonight. And no matter your sexuality, gender, race, or whatever else, you don't want a Valentine's Day bust if you can avoid it.
If there's one thing that being a self-confessed (and professional) movie geek has taught me, it's that you gotta know your audience. The wrong movie can ruin the atmosphere of any romantic endeavor as much as it can spice it up. So, if your night's plans involve cuddling up on the couch, here are some films you might want to think about pressing play on before you get to the fireworks.
If you want to get romantic…
Valentine's Day ought to be a romantic day. Your heart should flutter and your smile should be impossible to remove with all the feelings you've got going on inside. Director Gina Prince-Bythewood has somehow managed to conjure that feeling — twice — in Love & Basketball and the Oscar-nominated musical Beyond the Lights. Extremely attractive actors make these two movies even more perfect viewing.
Love and Basketball is available to rent on Google and to purchase on iTunes.
Beyond the Lights is available to stream on Netflix and to rent on iTunes, Google, Vudu, and Sony.
If laughing makes you feel sexy…
It's actually rare for a movie touted as a "rom-com" to be both rom and com. That's why films like Moonstruck and What's Up Doc? makes for perfect movies for Valentine's Day. After all, isn't laughter the greatest of aphrodisiacs? What's Up Doc is a throw-back to the days of screwball-antics past, with Barbra Streisand (looking the sexiest she ever has) and Ryan O'Neal play witty, bumbling love interests in a case of mistaken identity in San Francisco. Moonstruck stars Cher as a woman falling for a man with only one hand (Nicolas Cage!) while engaged to another. Snap out of it!
What's Up Doc? is available to stream on Cinemax.
Moonstruck is available to rent on iTunes, Google, Vudu, and Sony.
If you want to get a little kinky…
Movies about fetish sex can be tricky propositions at the best of time! Is a movie about wound sex (Crash) a good choice? Unlikely. Is a movie about a Nazi soldier and a concentration camp survivor in a complex S&M relationship the best film to press play on for Valentine's Day? Probably not. And while Fifty Shades of Grey certainly made BDSM a more popular avenue for sexual encounters, you might be wiser to give Venus in Fur a shot first. Based on the Tony-winning play, it has witty dialogue and eventually unfolds into something else entirely from what you may have originally expected. But, hey, if seeing somebody beg to be a human toilet turns you on, there's always The Duke of Burgundy!
Venus in Fur is streaming on Netflix and is available to rent on iTunes, Google, and Sony.
If you get nostalgic for the '90s…
The 1990s were pretty damn great for the Hollywood romantic comedy. While perhaps none were better than the Tom Hanks/Meg Ryan/Nora Ephron double of Sleepless in Seattle and You've Got Mail, why not give Sandra Bullock in While You Were Sleeping another shot? She's great in it, and it's just adorable.
While You Were Sleeping is available to rent on iTunes, Google, Vudu, and Sony.
If you swoon over corsets and costumes…
Petticoats, parasols, and poetry. There are worse ways to spend an evening than swooning over Abbie Cornish and Ben Whishaw in Bright Star. This Oscar-nominated period romance is a biopic about John Keats and Fanny Brawne, but not the typically bland birth-to-death Oscar-bait biopic you might expect. It's sensual and playful and dreamy.
Bright Star is available to rent on iTunes, Google, Vudu, and Sony.
If you just want to see sexy naked people…
Watch porn. If you want "sexy" with a smidge more substance, the Japanese erotic drama In the Realm of the Senses was so scandalous it didn't make it past customs in 1976. There's a crime element to keep the brain active while your adult parts are working overtime. Is it art or is it porn? You have to watch to find out!
In the Realm of the Senses is available to stream on Hulu.
If none of these appeal to you…
You know, you could always just watch a kick-ass movie. Just because a movie is "about love" doesn't mean it will be any good. And, trust me, a good movie is more likely to get you in the mood than something crap.
---
Glenn Dunks is a freelance film critic for hire, writer, and festival curator. His work appears in The Big Issue, Metro, Junkee, SameSame, and many more publications. He's also the author of SINATRA: 100 YEARS. Follow him on Twitter.